Visit our "stacks", a collection of scans of old radio and electronics books and manuals, free to download. These scans were made by many different people, and they deserve our thanks for this effort. The quality of these scans varies a great deal, but while some are not "pretty" most are fairly readable.
(Please help conserve bandwidth by only taking copies of those that you need.)
Note:
From time to time advertisements may also appear on this site for Heathkit Manuals.  These advertisements have no connection with this free manual collection offered here at Tubular Electronics.  These other sources may offer hard copies as well.  They may have manuals that we do not have, or they may have complete manuals where we only have a schematic diagram.  These other sources may or may not charge for copies.
THE TUBULAR ELECTRONICS VINTAGE BOOK COLLECTION
THE TUBULAR ELECTRONICS VINTAGE HEATHKIT MANUAL COLLECTION
Due to copyright issues the following manuals could not be made available here:
ET-3100, ETW-3700, GC-1000, GC-1000h, GD-1295, GD-1701, GR-151A,
HD-1416, HD-1418, HD-1420, HD-1424, HD-4040, HFT-9, HG-10b,
HK-232, HL-2200, HM-2140a, HM-9, HW-16, HW-9, IC-1001, ID-5001,
IG-28, IG-4244, IM-2260, IN-17, NE-2112, PSA-9, SA-2060A, SB-1000,
SB-610
The following manuals have been checked with the United States Copyright office and are believed to be "off copyright".
Note: Tubular Electronics articles are copyrighted,
and the publisher of Tubular Electronics
takes great care not to violate U.S. and
international copyrights laws.
All of the documents in this folder
are believed to be no longer under copyright
(i.e. "off copyright").
If anyone has evidence to the contrary,
or even suspects that any Tubular Electronics
folder contains copyrighted material
please contact the Tubular Electronics publisher
at the website contact address.
Thank you.
Please feel free to use this forum to discuss these documents.
We have located a collection of scans of old Heathkit (a.k.a. Heath) manuals. Some of these are of low quality, but most are readable. These are available for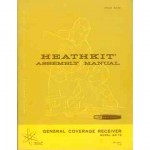 free download, right here at Tubular Electronics magazine.
We owe a debt of thanks to those who have taken the time to scan and compile these documents.
A careful search of the United States Copyright website revealed some of the manuals in the database may still be under copyright. Thus, we did not include these manuals, but we have included a list of the manuals that had to be omitted.
We are looking for ways to expand this free download library. We are willing to give proper mention or credit to the donor, and possibly even post a link to a website. If you have a collection you are interested in sharing, please contact us here at the magazine.
We have received a number of emails from a Don Peterson of Data Professionals
(7172 Regional Street, PMB 268, Dublin, CA 94568) claiming to be the owner of copyrights on these Heathkit manuals. But so far Mr. Peterson seems unable to substantiate this alleged copyright ownership.
Therefore Tubular Electronics will continue making these manuals available for download until such time as a verified copyright owner asks to have them removed. Please be reminded that falsely claiming ownership of a copyright is fraud, and such attempts will be reported to the proper authorities.
I hope the availability of these manual scans has been useful. It is our intention to continue to provide more of this material to our readers.